CASINO ROYALE (s/y) is a seagoing vessel of special character. Unrivalled as regards its size and design, a brand-new yacht of 2014. The fulfillment of the dreams of anyone willing to escape the grim reality, even for a moment. It doesn't matter if it's a lonely cruise, a trip with family or friends or a romantic one – you will be delighted anyway. The yacht has been designed with very good nautical performance and comfortable living space in mind. The hull of the yacht is bent on the water line running to the front of the boat, which improves its stability and increases the interior. A great advantage of this yacht is its perfect navigability, which allows for performing all maneuvers in ports or on open waters (a thruster).
Technical properties

s/y CASINO ROYAL:

Length overall

12,38 m

Length of the water line

11,97 m

Width

4,20 m

Immersion

2,05 m

Displacement

8450 kg

Sail surface

84 m2

Mast height
18,85 m

Engine power

40 Hp

Fuel tank (diesel)

200 L

Water tank

570 L

Height under the deck

2,04 m

Number of cabins

3

Number of bunks

6+2

Year of production

2014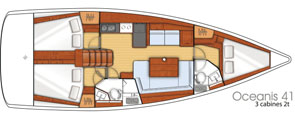 Casino Royale has three two-person cabins and two places to sleep in the mess. It all makes a cruise on this yacht a comfortable experience. Additionally, there are two bathrooms on the boat. A great advantage of the yacht is the fact that the mess may be used as a bedroom for two at night and a dining room and resting place at day. The yacht is equipped with high quality audio devices. The interior is well-lit due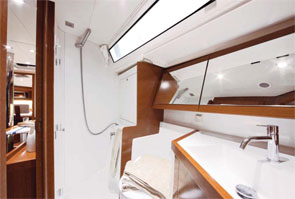 to the large quarterdeck windows and the two large windows in the cockpit wall. The refrigerator has the capacity of 130 l, the freezer – 85 l. In the bathroom there is a separate shower. The interior, just as in the latest Beneteau yachts, has been designed by the Italian company Nauta and looks very elegant.
The galley of the boat is very well equipped, as it has a two-burner gas stove, an oven and a running water sink. At the Guests' disposal there are also a dish set for eight and pots with a pan.
---