Atsea I is a seagoing yacht of a unique character, which we offer in the Avantgarde version as a luxurious variant of the boat Bavaria Cruiser 32, which is eagerly chartered by sailors setting off on cruises on the Baltic sea as well as abroad, on the Mediterranean sea. The greatest advantage of this yacht is its perfect navigability, due to which any maneuvers may be carried out in ports or on open waters. Additionally, the boat is distinguished by its special nautical properties thanks to Farr Yacht Design, which used highest quality materials and tri-radial sails to build the boat. As a result, the yacht can achieve excellent results on water.
Technical properties

s/y ATSEA I:

Length overall

9,99 m

Length of the water line

8,85 m

Width

3,42 m

Immersion

1,95 m

Displacement

5200 kg

Ballast mass

1300 kg

Sail surface

51 m2

Mast height

14,80

Engine power

18 Hp

Fuel tank (diesel)

150 L

Water tank

150 L

Height under the deck

1,84 m

Number of cabins

2

Number of bunks

6

Year of production

2013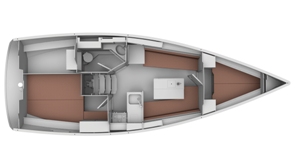 Atsea I has two cabins for two people and is equipped with spacious bunks, cabinets, mosquito nets and roller blinds. It all makes a cruise on Atsea I a comfortable experience. Additionally, on the boat there is a large sanitary cabin with a sea restroom, a sink and even a shower with hot water. A great advantage of the yacht is the fact that the mess may serve as a dining room and a place of rest. The vessel is equipped with high quality audio devices, a 15-inch TV set and electronics to play movies. The boat is also distinguished by its heating system, which is very useful when the temperature visibly drops at night during colder seasons. The system may be used at any time, regardless of weather conditions.
Also the galley is very well-equipped, as it has a two-burner gas stove, an oven and also a running water sink (including hot water). Besides, in the galley, there is also a refrigerator, which allows for preparing meals if need be. At your disposal you will also have a dish set for eight and pots with a pan.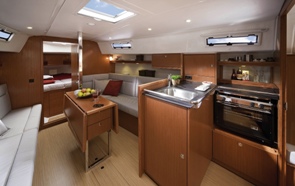 By putting the vessel at your disposal, we guarantee complete safety because our yachts undergo regular inspections. Besides, the boat is equipped with satellite connection and emergency essentials, a pneumatic raft and a number of additional devices. We also make sure that our yachts have all indispensable certificates as well as additional ones.
You are encouraged to see the photo gallery and the detailed list of the furnishings of our yachts.
---